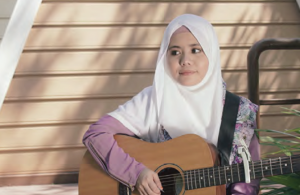 ~Singer and teen idol. Najwa Latif commands a following of loyal fans and a vocal repertoire that few can match. Malaysia's hottest rising star shares a bit about her life and the driving force behind her amazing music.~
Tell us a bit about yourself.
I'm Imratul Najwa binti Abdul Latif though many know me as Najwa Latif. I'm 23 this year and am originally from Batu Pahat, Johor. My parents are both teachers. I'm the third of four siblings and currently doing my Bachelor of English (Hons) degree at Unitar International University while working on my singing career on a part time basis..
How did you become a singer and receive your musical training?
My parents were highly supportive when it came to me picking up music. After I scored well in my local Peperiksaan Menengah Rendah (PMR) examinations, my father gave me the opportunity attend music classes. At the time, my youngest sister and I adored the Norwegian pop duo M2M on account of their haircuts. My sister chose the piano and I chose the guitar because of that same reason. I also adore Justin Bieber because of his unique voice and his skill with a guitar too, which was a contributing factor to me picking up the guitar. After a few lessons, I got bored and neglected my practice sessions.
My elder sister and my father suggested after a time to post up some my practice sessions on YouTube. After a few months of doing covers of popular songs, a blogger called CikEpal did a review on me and the views on my YouTube channel spiked. This was in 2011. After several months of doing covers on YouTube, several labels wanted to sign me up. I went with NAR Records which is my first and current recording label. At the age of 16, I released my first song, Cinta Muka Buku which was composed by me while the lyricist was my elder sister. It managed to get one million views in a few weeks and I didn't look back ever since.
Where do you draw inspiration from for your music?
My inspiration comes from the people around us and my family. From their stories, my younger sister and I made songs that have love, friendship and other positive values. My musical styling leans more towards pop music since all of my songs are written in a basic format that's easy to understand and approachable by everyone.
Tell us more about the creative process that goes into creating your songs.
Most of the songs that we have produced so far were all written spontaneously. The creative process isn't something you can force. Sometimes, the creative process begins with only a word or a few lines and I keep at it, adding and layering lyrics and refining them until they become a song.
What sort of technology do you use to create your music?
I personally prefer to stick to the basics. I primarily use my guitar to create my melodies with other instrumental accompaniment though I am open to exploring other technologies to incorporate into my music in the future.
How do you juggle life as both an artiste and as a student?
I love the English language and eagerly want to improve my fluency. Playing music also helps me to relax. It's a joy to do both. My recording label also agreed to arrange my singing schedule on weekends as I attend classes on weekdays so it all works out. It was a bit hectic at first, but I've gotten used to it and it has been an amazing journey so far.
What is your opinion of online music streaming services like Spotify and content services like YouTube? How does it affect your work as an artiste?
It is a fantastic medium for people to know about my latest work. I still remember the days when people had to go to town and find CDs of their favourite artistes. You had to be very well established for a recording label to consider creating CDs of your work. Now, almost everything has gone online. With the new digital mediums of music distribution that we have now, it's a lot easier for artistes big and small to update their fans and gain exposure..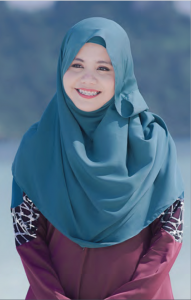 How have you taken to the fame that you are receiving now? How do you feel about it?
Up until today, I have never felt like I am someone famous. From being just a normal girl who was lazy at practicing her music to being someone who has her music being played onstage and sung by hundreds of fans nationwide, it's an amazing experience. I feel blessed, appreciated and touched to see people singing my songs.
You did a collaboration with Chinese idol singer Lee Hom in 2013. How did you feel when you were on stage?
When my manager told me that Lee Hom watched my YouTube video where I did a cover of his songs, I can say that I felt like one of the luckiest people on earth. So many crazy things were happening in my life. I was overwhelmed by the welcoming crowd and Lee Hom himself when I stepped onto stage. Two things came to my mind at the time – Lee Hom was so handsome and dreams do come true!
What is your next step in your career as a singer?
I hope to finish my Masters in Teaching English as a Second Language (TESL) within the next five years. As for my singing career, I will keep on sharing my music as long as people are still interested in listening.
What is the current state of the Malaysian music industry and what can be done to take the Malaysian music industry to the world stage?
The local scene is becoming merrier with the addition of a lot of newcomers. There's room for improvement for the Malaysian music industry though I feel that local musicians need to be treated equally and on the basis of the music that they want to share with everyone, not just on reputation alone.
Any advice for aspiring musicians and artistes out there?
Believe in your own music, be strong, and be a good person to yourself and your family.

NAJWA'S PLAYLIST
Sit down, kick back and check out Najwa's best songs on YouTube.
 

Cinta Muka Buku

bit.ly/1QNCDq7

The first song that was our introduction to the music industry. My sister and I like to call it our "cari makan" song.


 

AdaMu

bit.ly/1OlGO5u

This song has significant sentimental value for my sister and I as we created it during the fasting month in 2012. It was released at the same time a year later.

 

Satu

bit.ly/1OPQoOL

This is one of my latest single that was released recently. This is a song that reminds us that it is not wrong to give our loved ones a second chance and to support them to change for the better.
 Source : SHOUT Q4 2015, consumerinfo.my #connected #CFMmalaysia  #CFMshout