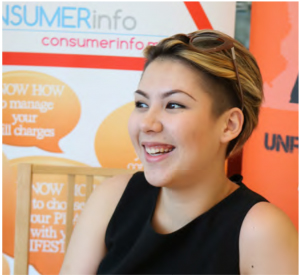 ~Singer. Tunesmith. Ballet dancer. Musician. Thespian. Self-confessed workaholic and the voice behind some of the smoothest play lists on Capital FM radio, Ashley Chan is a name that's heating up the airwaves and she takes time off to talk about what keeps her going as one of the voices behind Capital FM.~
Tell us a bit about yourself.
I'm an only child and grew up in Kuala Lumpur. My mother's English and my dad's Chinese. Currently I'm a DJ with Capital FM radio on 88.9FM and you can hear me spin tunes from 1PM – 4PM on weekdays. I sing and dance and did ballet and salsa since I was four. I say did because I tore my meniscus when rehearsing for three musicals and I had to reluctantly give it up. On the music front I sing, play the piano and the guitar and I love electronic R&B.
Describe yourself in three words.
Crazy. Caring. Loyal.
What does a working day for a radio announcer on Capital FM look like?
My work hours are pretty flexible I come in a bit earlier, say an hour or even earlier if there's a lot of preparation before the show starts and I can leave once my show is over. I prep what I need to say, what songs I want to put into my track list for the day and away I go. Other than that it's pretty much a routine and I take time off on weekends to focus on my music and finish off my diploma in Mass Communications at ICT College. On the music front I'm working on a new experimental electronic R&B project along the lines of in the vein of artists like Kimbra and Little Dragon. Kimbra's my spirit animal. I love her so much and really look up to her musically and artistically. I hope to get a few singles out and enough material first in order to get an EP out.
How do you unwind on weekends?
I spend time with my family and catch up with friends. I love hanging out at a café and watching life pass by with coffee. I also love watching movies, especially comedies – they're easy to watch and don't need much brainpower to enjoy though I still find 'Like Crazy' the movie which is my all-time favourite. I also love both Western and Korean dramas. My personal favourites are still Brooklyn 99 and Spring Waltz.
What are the most important things in your life?
My family comes first followed by my friends, my music and, of course, my work. My work is my life, yo!
How did you become a radio announcer with Capital FM? Was it what you always wanted to do?
I was in school thinking about what I wanted to do when I graduated. I initially wanted to do TV and dabbled in it for a while. I did a few shows but nothing happened out of it though I was always a fan of Capital FM radio even when I was schooling. An ad came out for a position in Capital FM and I went for an audition. I didn't get it initially, so I went back to school. I got a call half a year later and Capital FM wanted to get me onboard and here I am ever since.
What's the best part about your job?
Sharing my love for music with everyone. I'm a musician myself and connecting with listeners with music and getting calls from fans saying "Hey, Ashley, thanks for
playing that as the music really touched me" makes my day.
What was the most interesting situation you've encountered as a DJ on Capital FM?
Well, we get really random callers on occasion. Some people will try to call in acting as two different people and try to win a giveaway twice. The oddest was one chap who didn't quite grasp the mechanics for the giveaway of a Michael Jackson CD and was so excited he just rattled off the named of everyone in the station. He got an A for effort and got the CD anyway.
With the advent of alternative media channels and the rise of social media, is there still a place for radio? Where do you think radio will go five years from now? How would radio stay relevant in an age of instant information 
sourced online?
That's a question we think about a lot. There's still a place for traditional media like radio as it is still a very personal medium – there's someone talking to you and with radio you're able to carry it with you everywhere on your phone or in your car. It's a bit early to tell but five years from now will likely expand the possibilities and potential of online radio streaming as bandwidth and connectivity improves.
What gadgets do you use on an everyday basis?
I'm an Apple girl so I use a Macbook Air. It's light and it fits my needs. I used to own a Galaxy Note but swapped it for an iPhone 6 in silver. I also have a pair of Skullcandy headphones in white.
Have you had any problems with your telco service? Are you aware of CFM and how it can help act as an intermediary in resolving service issues with telcos and other service providers?
Currently no as I'm quite happy with my telco at the moment. I am aware of CFM and will definitely contact them should the need arise.
ASHLEY'S FAVE 5
What does a top DJ have loaded on their smartphone in the way of apps? Ashley shares her top half score of picks that she keeps handy.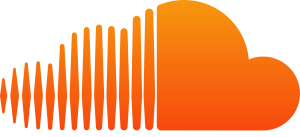 SOUNDCLOUD
Free for iOS and Android
 Lets artists upload and share their work online and reach audience. A great way to listen and discover new bands that would otherwise go unnoticed.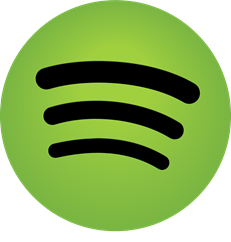 SPOTIFY MUSIC
For iOS and Android. Free for basic and RM14.90/ month premium
 Lets you browse, search and stream a wide selection of music for free. Fork out for the Premium version and you can enjoy better quality audio and offline listening.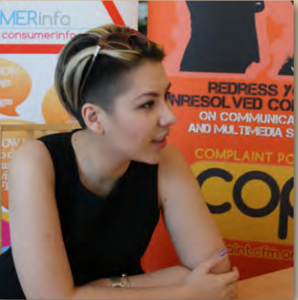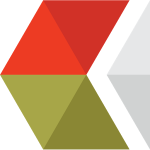 VSCO CAM
Free for iOS and Android with in-app purchases
 Shoot, share and edit shots with this handy photo editing app. Offers an array of options to tweak your shots including cropping, straightening shots and a selection of free and paid-for filters.

CAPITAL FM- MALAYSIA
Free for iOS and Android
Listen to a constantly changing list of tunes as well as catch up on the latest news and giveaways too with this official app.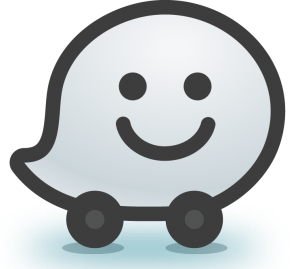 WAZE
Free for iOS and Android
This inestimably handy crowdsourced navigation app lets you share and receive traffic updates in real time and helps shave time off your commute from being stuck in the jam.