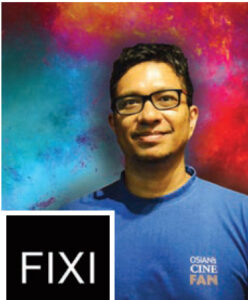 In 2011, when the idea of this young man, Amir Muhammad to build a company that published novels in Malay known as Fixi, many consider the establishment was "mediocre". But, because Amir has his own followers and had great talent in producing novel, his name began to climb up. When a lot of people were crazy to sell various beauty products and clothing online, Amir tried something else and certainly not popular in the eyes of most people. However, it was worth all the effort. Fixi.com.my phenomenon. Now, these guys are smiling, not because he was proud of himself, but because he was proud to produce so many writers and generate their income and most importantly foster interest in reading among Malaysians. Let us know who is Amir Muhammad and his Fixi book.
If you looking at the current trend, because of the uses of smartphones and social media are more widespread, physical book is no longer the first choice for people to educate or entertain. Only a teen romance novel that are still exciting the readers. Many of the novels had been selected to be adapted to film and TV drama. Due to that, it is difficult for the publishing company to publish any manuscript of interest but not for Fixi Books. Yes, Fixi Books is a publishing medium magazine in the new millennium where it provides an opportunity for amateur writers to produce works that a 'little' different and sell it online or at the famous outlet bookstore. The idea to publish Fixi came on August last year in an event organized by Popular. At that time, the top ten best-selling malay novel for the previous year is listed, and almost all embedded word 'love' for each title. At that time, I kept thinking to make a difference. Call for entries. Yes, there I send a message to all members of Facebook Matahari Books, which is my first company and the list of suggestions for anyone who wants to write. I've set a conditions, including 60,000 words, slang language and celupar, urban themed and contemporary and one word for each title. Among 2,500 members, only 11 of them give response, but only three novels (both completed and in accordance with criteria) were screened such as Pecah, Cekik and Kougar. So I am very grateful with Facebook, because without it, Fixi Books may not be able to launch and recognizable.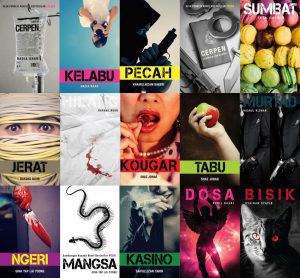 IDENTITY, UNIQUE AND DIFFERENT
Fixi. Yes, the concept is as unique as the name. The company name was taken from the Indonesian word 'fiction' that is inferred from the English word 'fiction', drawn from Old French 'ficción', and also taken from the Latin 'fictionem. In short, it shows that nothing is genuine in the novel world.
AND WHAT ABOUT THE TARGET READER THAT FIXI BOOKS HAVE? DO THEY HAVE TARGETED SPECIFIC GROUPS?
The goal of our readers basically to anyone who can read our national language, including those who prefer to read in English. Even 'Fixi style' has different style of Language. We want to emphasize on the
plot and different styles that are immediate and in-your-face. At overseas, it is called as pulp fiction. For your information, usually pulp-fiction genre is focused on the elements of life that are darker, and the hot and sensation, but still maintains the sensitivity of the issue. In fact, the concept of the book cover are also different. Unlike most novel uses photography, we are more focused on the illustration.
NOT AFRAID BY THE PUBLISHING INDUSTRY WHICH IS INCREASINGLY WEAKENS DUE TO MALAYSIAN ATTITUDE WHO STOPS READING? AND WHAT IS THE STRATEGY OF FIXI BOOKS TO REMAIN ALIVE?
We believe that there are still many Malaysians who are actually reading, but the published manuscripts have to be according to their wishes. Yes, Fixi inspired from a series of romance novels, but we are not anti-love. It is just that our presence is to add variety to the scene or Malay series novel that is still happening! Four of our books have been published and have been sold to Indonesia, and three also have been made into a movie: Pecah, KL Zombi (novel adaptation of Zombijaya) by Grand Brilliance that has come out, and Gantung by Red Films that will be with the audience later this year.
WHAT IS THE EXPECTATION OF FIXI BOOKS AND HOW AMIR SEES FIXI BOOKS FOR THE YEARS TO COME?
Yes, of course I want to see Fixi Books to be the choice for readers who wants variety in their reading regime. Honestly, our primary focus is to select novel that will impressed as a novel and we want it to remain. We also hope to be able to produce many novel writers to 'switch on' the publishing industry from being overshadowed by an increasingly digital era dominated. Finally, readers can visit the website, fixi.com.my to select the type of reading that we offered. We can be followed on social sites and shops especially popular bookstore, throughout the country. Finally, happy reading!
Source : SHOUT H1 2016, consumerinfo.my #connected #CFMmalaysia  #CFMshout