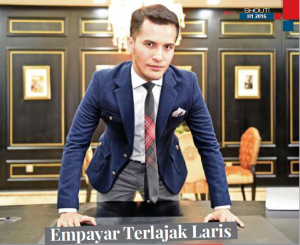 At the early age of every youngsters who is still looking for the purpose of life, having fun and working hard for money, Dato' Aliff Syukri Kamarzaman had already far ahead. In the heart of this
31 years old young man from Kuala Lipis, Pahang, there is determination, commitment, courage that transcends everything else and aim to hold an extraordinary success in business. To go through the story of this D'Herbs Holding (M) Sdn. Bhd.'s Managing Director is like listening to a "storytelling" about a story of a 5 to 12 years old kid that have been scorned and ignored by children at his age because he was dense, as he was in the "kelas pemulihan" starting from standard one to standard six. This sad story of Dato' Aliff 's continued until he was in Form 1 to form 5 as he failed his Sijil Pelajaran Malaysia (SPM). During that time, everyone assumes that there is no hope for him to success in life. However, for this young man, he knows that it is not the ending for his future. Because of his deep interest in doing business, he keeps his reverie to do business. With RM450.00 as a capital, he opens up a cosmetic stall at a morning market in Seksyen 13, Kelana Jaya and Sri Andalas on every weekends. Unexpectedly, his business was accepted by everyone. His talkative character successfully attract his customer. His interest in the cosmetic world have
brought him to widen up his business and he tried to apply for a loan from the bank, but rejected. As he get help from his friends who convinced the bank officer, he successfully get the capital of RM100,000. With that money, it changed Dato' Aliff Syukri's life.
SHOUT editorial group meeting with the winner of the 2016 Entrepreneur Award icon at Wisma D'Herbs in Kota Damansara intended to reveal the secret of his success. Check out the exclusive interview with the entrepreneurs, millionaires and celebrities of "Terlajak Laris"!
The strength of Dato's empire does not depend on your product but on your personality itself?


True. People know me as a guy with small voice, loud, talkative, and a good actor as I am able to attract people's attention. But that is okay. However, people have to understand that I am an entrepreneur and a spokesman also a model to my own product. I spent at least 2 million per month for advertisement to appear on the TV, radio, newspaper and also magazine. I did not do it for fun but for business. Just imagine that to appear on television for a duration of 2 minutes, I have to pay RM60,000. I have to ensure that people trust my products. When people recognizes me, they will try these D'Herbs products. My personality is my product and if I have 1.2 million followers on Facebook and Instagram, my products will become closer to consumers and customers. I had go through many "doors", vicissitudes and tears to build up D'Herbs empire, so I want to make sure that D'Herbs will be growing as champions of all cosmetics in Malaysia and Asia.

Online entrepreneur is increasing. What do you think?




Seven years ago, when I first started my business influences, there were not many competition. But, approximately 3 years ago, there were many other brands such as Bella Ammara, Vivy Yusof and Nealofar Hijab. In a blink of an eye, these young entrepreneurs became a millionaire. Their success have become the starting point of every online entrepreneurs to make their own business. This is a good thing for our own country.

Do you trust this online business?


Yes. Of course. The marketing online business influence is at the second stage after marketing on TV. Shopping habits of Malaysians have turned to online shopping. Today, variety of online business are emerging. A wise entrepreneur should follow the current trend, therefore since three years ago, D'Herbs also venture online sales and the results are quite remarkable.

Where does the strength of this online business?




Of course to the response, layout, product display, signs, and interaction with customers. Online business runs 24 hours non-stop. Then, of course, customers expect a fast response to any questions. Frankly, I have a group that manage my Facebook and Instagram. They need to update the types of products, programs and activities not only involves D'Herbs products but also involving me. This group is a strong backbone for my online marketing.

What do you think of D'Herbs in 10 years time?




D'Herbs aimed to become a famous brand of cosmetics not only in Malaysia, but throughout the world. Today, I have 45 cosmetics branches and 30,000 agents throughout Malaysia. The building in Kota Damansara, I bought for RM30 million. I also have building in Thailand, Cambodia, and Indonesia. D'Herbs products had already making inroads into Singapore, Brunei, Thailand and Indonesia. I also have two spa (Selangor and Negeri Sembilan), which is Aliff syukri Properties Sdn. Bhd. which has over 200 properties nationwide, and the factory itself known as Aliff Herbs Manufacturing Sdn Bhd. I do believe that nothing is impossible. Once upon a time, I wanted my product to be a "local hero" in Malaysia, but today I want the Asian Countries to be impress with my product.

Dato' is famous with gimmick and many people want to follow your steps. Do you have any comment?




In business, there are several phases. I do gimmicks when I was 23 years old and I considered it appropriate to my age although it is annoying. I am not doing it for the glamorous but to generate income. Glamorous but without money, you have nothing. I love to work faster but ensure it is a success. At the beginning of my appearance in TV, too many people have denounced me as if there were 1,000 "soldiers" who want to discredit me. Thus I have to make sure I was on the top to ensure that I will not fall down because of the critics. I believe if I want to taste the honey, I have to be prepared to be stung by bees.

Three words to describe Dato'?


"Orang kampung", fussy and stingy. I never forget my roots as a village kid. I have to be fussy to ensure the safety of my products. I only bought branded items and took business class for flight after I have RM30 million in my savings.

How long does it take for you to surf the Internet everyday?


Every five minutes, I will reach my Facebook and Instagram through my phone.

Dato have 1.2 millions followers in Instagram, how far do you trust them?


My success today is because that they trust me and the product that I have produced. Therefore, I also put a full trust in them. Without them, I would not be here. Malaysian and I were lucky as the government allow us to access the Internet without any restrictions. We are free to do business on Facebook and Instagram. So, Malaysians, let's take this golden opportunity!
Source : SHOUT H1 2016, consumerinfo.my #connected #CFMmalaysia  #CFMshout