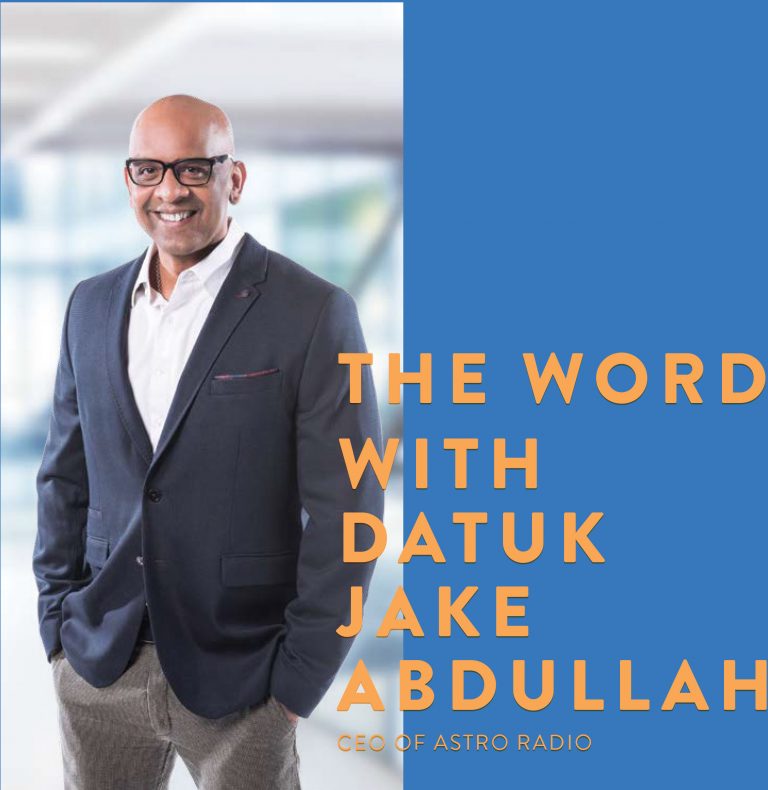 WITH VAST EXPERIENCE IN THE BROADCAST AND ENTERTAINMENT INDUSTRY, DATUK JAKE ABDULLAH IS SOWING THE SEEDS OF SUCCESS. JUGGLING BETWEEN LIFE AND AN EXCITING CAREER, THE CEO OF ASTRO RADIO IS TAKING ALL IN HIS STRIDE.
1. How did you start your career in broadcasting?
I joined the company as an announcer and music executive in 1996. I still remember how excited I was with the thought of embarking onto something revolutionary in the radio broadcasting industry. It was also a timely opportunity as I wanted to make a transition from the previous job that involved a lot of late nights for my daughter, Larissa who was just a baby then. 20 years has passed, and I have gained so many great friends whom I can proudly call family.
2. The biggest challenge you encountered in your career and how did you overcome it?
It was a difficult decision to leave Astro when I was offered to serve at iM4U in 2012. I was the CEO of iM4U for a year and returned to Astro in 2013.
3. Celebrity that you consider as icon?
I enjoy fitness, hence definitely Dwayne "The Rock" Johnson.
4. If you could travel back in time, what would you say to the 10 years old you?
Learn a skill or trade when you are young… and there will be this one thing called the computer that is going to revolutionize everything!
5. Your first handphone was…
A Nokia.
6. You're embarrassed to admit it, but you watch… (TV series/movie)
A lot of Disney Movies.
7. If you could let loose on your social media for one day, you would post…
Somehow I don't think it would be any different from what I'm doing now as I mainly focus on health, fitness, and motivation.
8. You're an Apple or Android fanboy/ fangirl?
Apple!
9. Five of your favorite apps that you must have in your smartphone?
I have a few. I love Snapseed, definitely a great photo editing tool; Waze as I am bad with directions and my Pacer app which I use to track my runs.
10. Which is more important to you, more talk time or more data?
Data. It is important to get your facts right.
12. Which would you choose? A phone with an awesome camera or long-lasting battery?
Definitely a longer-lasting battery as you can always edit your photos.
13. Best mobile game you ever played?
I actually don't play many games on mobile but I did spend a few years Candy Crush-ing.
14. What do you enjoy doing the most?
I enjoy working out in the gym and I always make it a point to spend time with my family and friends.
15. Have you heard of the CFM before this?
Most definitely.
Source : SHOUT Q3, 2017, consumerinfo.my #connected #CFMmalaysia  #CFMshout