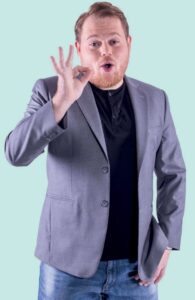 For Rhys William, his travel journey has definitely taken him home. This British guy is famous for his brilliant command of the Malay language and is enjoying his time trying the best food in Malaysia. It's not an overstatement to say, he is quite more local than the locals.
THE WORD WITH RHYS WILLIAM
1. How did you end up choosing Malaysia as your home?
I first came to Malaysia on Holiday in 2012 for two weeks. I immediately fell in love with the country and decided to stay longer and even try living here. There was something about the atmosphere, the people, and the food that I felt two weeks wasn't enough to truly explore. So in 2013 I came back and stayed for two months, and that two months quickly turned into four months, and now after almost five years later I'm still here!
2. What was the biggest challenge in learning Bahasa Melayu (BM) and how did you overcome it?
The biggest challenge in learning BM was picking up the local slang (as there is a big difference between "textbook/baku" language and the "day to day/bahasa pasar" language). I overcame this by making friends with the locals, and asking them to teach me the "slang". I also made an effort to speak BM at every possible opportunity. Another hard part was actually getting the courage to go out and speak the language to the locals, as I'm naturally quite a shy person. The way I overcame this was to just "selamber je" and speak BM at every possible opportunity and make an effort to speak even though I was shy. I also started my blog (www.matsallehcarimakan.com) which I asked people to read and give feedback. After I started getting positive comments in real life and on my blog, it gave me the confidence and motivation to keep on learning and speaking the language.
3. What's your favorite Malay word/phrase?
There's a lot to choose from in all honesty, and I'm a big fan of 'peribahasa' and /perumpamaan', because they can be used as metaphors to describe different situations or actions. However, if I have to pick one it would be "durian runtuh". I like this one as it shows just how much Malaysians love durian, that "durian runtuh" can mean "an unexpected profit".
4. Who do you consider as an icon?
I have a lot of icons, inside and outside of Malaysia. Out of all of Malaysian icons, if I had to pick one, it would most likely be P. Ramlee. The reason being is his works are timeless masterpieces admired by all Malaysians. I really believe his contributions to the entertainment industry is what has helped to shape the industry today. Many of his films are some of the first BM films I watched when learning the language, and the jokes could still be considered funny today. I also admire him as he is a household name, and his legacy has lived on well past his passing.
5. Your favorite place in Malaysia? Why?
I'm a guy who loves to eat, so some of my favorite places in Malaysia are out of the city where you can find authentic and traditional delicacies. I love Penang, due to the amount of great food you can find there; and I also really like Kuching, Sarawak, again because of the food!
6. Your favorite Malaysian food is….
Again, there is a lot to choose from! If I had to pick one of my favorite food though it would definitely be Nasi Kerabu. The first time I tried it in Kelantan I couldn't really understand why the rice was blue. Once I learned that the rice was soaked with a certain flower (Butterfly-Pea flower) to give it the blue colour, and there is  also a special technique to eat it (you have to mix all the ingredients together), it quickly became my favorite dish, and no matter how many times I eat it, I still love it!
7. Your first handphone was…
My first handphone was a Nokia 3310 back when I was in school. I remember it was the size of a brick and as heavy as a rock, but you could play "Snake" on it and it was considered "cool" at the time because you could change the cases.
8. Your travel gadgets are…
I always make sure I carry my mobile phone and my powerbank. I know that in most places I go, I can use my phone to find useful information or do some research, so making sure I carry my powerbank is a must!
9. Are you an Android or Apple fanboy?
I'm an Android guy. I've used Apple in the past but always found it to be lacking the features I need and was hard to use. Android offers far more features and customization so I can personalize my phone.
10. Five must-have apps on your phone?
WhatsApp, Google Maps, Facebook, Instagram, and Gmail.
11. First thing that you check on your smartphone when you wake up?
The first thing I do usually is checking my WhatsApp to make sure I haven't missed any important messages for the day ahead. Most of my communication is through WhatsApp, so it's important to stay on top of this.
 12. Your favorite social media platform is…
I really like Facebook as you can engage and talk with lots of people. A lot of my Malaysian friends and followers are on Facebook. One of the first places I started posting and writing in BM was on my Facebook, and that's one of the ways I managed to meet and make friends with local people, as well as get feedback on my BM.
13. Three words that describe you…
Foodie, Adventurous, Open-minded.
14. Which would you choose, a phone with an awesome camera or long-lasting battery life?
I would choose the long-lasting battery life. I use my phone a lot, and the battery is often running out. Even with a normal camera, you can still edit photos to make them look nicer, but if your battery runs out you can't take any photos at all!
15. What is your favorite pastime?
Aside from visiting new places and trying different foods, I quite like outdoor activities such as camping and hiking.
16. To relieve stress, I will…
I will usually go hiking for a few days with a group of friends. The time away from the city and the smell of the jungle are an instant stress reliever.
17. If you could be transported to a place in time, where would it be and why?
I would love to travel back in time, say 20-50 years ago, and see Malaysia in its early days and early stages of development. I think it would make a great contrast to see how Malaysia was back then and how the development of the country has changed.
18. What is your most memorable travel experience?
My most memorable travel experience was shortly after I moved to Malaysia in 2013 – I rented a car and did a road trip around the Peninsular. In just over one week I managed to cover all of the Peninsular states, and it was amazing. I loved the varying scenery, and of course the opportunity to try each of the state's famous dishes. I think this road trip was one of the things that really made me fall in love with Malaysia, as I got to visit and experience outside of the city and in the "kampung".
19. Have you ever had any problems with your telco service? Are you aware of CFM and how it can help act as an intermediary in resolving service issues with telcos and other service providers?
So far I haven't had any serious problems with my telco service. Most of the time things can be settled easily by popping into their store. I wasn't aware that CFM can help as an intermediary, although I know now!
20. What do you think about internet service in Malaysia?
I like the internet service here. Usually, wherever I go there is 4G or 3G service. The fixed line internet in the city is quite fast.
Source : SHOUT Q4, 2017, consumerinfo.my #connected #CFMmalaysia  #CFMshout