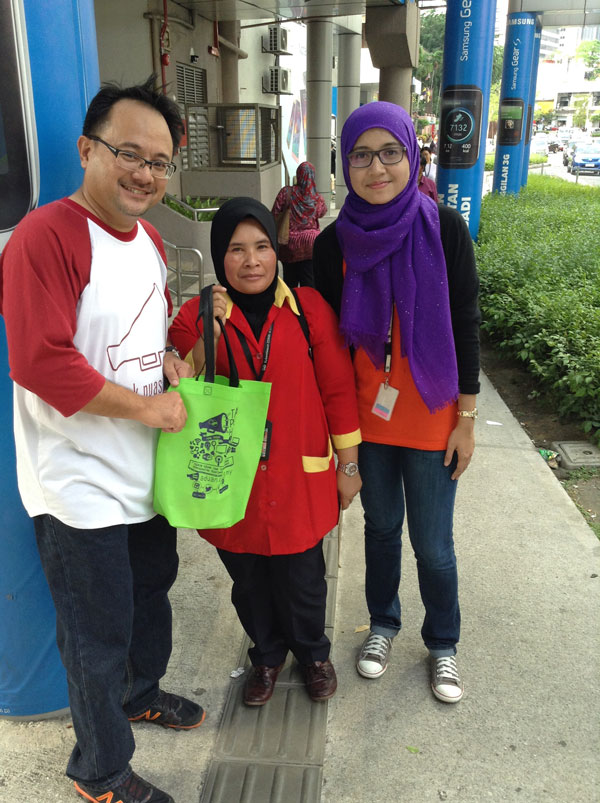 KUALA LUMPUR, 10 JULY 2015: While we are still in the holy month of Ramadan, Director of the Communication and Multimedia Consumer Forum of Malaysia (CFM), Mr Ahmad Izham Khairuddin took the streets along Dataran Medan Pasar together with his CFM staff to mark the end of Ramadan, handling out bubur lambuk among the consumers in CFM's neighborhood.
Consumers of all races in the vicinity of Masjid Jamek gathered and enjoyed the Ramadan goodies which included CFM's in-house newsletter SHOUT, bubur lambuk and merchandise from CFM.
"It is the first time that CFM is engaging the public through handling bubur lambuk and we hope that this project will become a tradition and will be continued during the month of Ramadan in the future. In addition it is also one of the CFM initiative to get closer to the consumers," said Director of CFM.
CFM had also organized an Instagram Raya contest, #nakCFMmoneypacket to all CFM followers on social media. Ten lucky winners of #nakCFMmoneypacket had been announced in our CFM official Instagram account, cfm_malaysia recently.
The Communications and Multimedia Consumer Forum of Malaysia is located at Wisma Straits Trading Building, Lebuh Pasar Besar, Kuala Lumpur.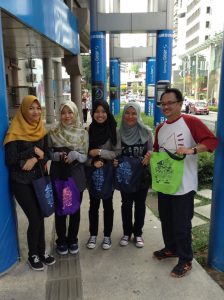 _______________________________END________________________________
About CFM
The Communications and Multimedia Consumer Forum of Malaysia (CFM) was established and designated by the Malaysian Communications and Multimedia Commission (MCMC) in 2001. It is a platform for the industry and the consumers/public to make coherent and constructive contributions to service improvements and policy development.
CFM is tasked with, amongst others, to promote growth of Malaysia's communications and multimedia industry and the protection of consumer interests by fostering the highest standards of business ethics and behavior through industry self-governance. CFM is also a channel for complaints redress on Communication and Multimedia services.
If you have unresolved complaints about your Communication and Multimedia services, please lodge your complaint by calling CFM's toll free number 1-800-18-2222 or visit CFM's website at www.cfm.org.my or write in to enquiries@cfm.org.my.
Media Contacts:
Noor Shahdiella Abd Manan shahdiella@cfm.my 019-3246036
Roharrashidah Abdul Halil roharrashidah@cfm.my 016-9642972
Razaleigh Zain razaleigh@cfm.my 019-4170766