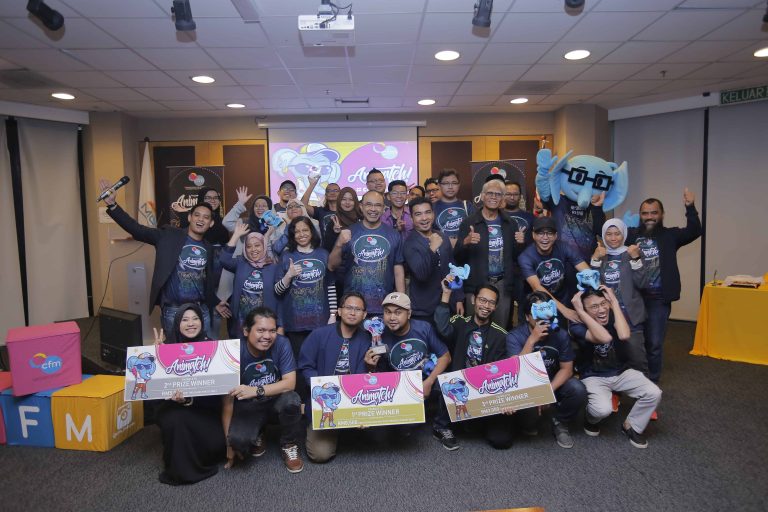 CYBERJAYA, 31 MARCH 2019 – CFM Animatch is the first animation competition organized by the Communications and Multimedia Consumer Forum of Malaysia (CFM) to create creative animation videos to deliver messages of issues faced by consumers in the communications and multimedia also to find creative talents in the field of animation.
The CFM Animatch competition is one of CFM's initiatives in engaging the public for a better understanding of the role of CFM that facilitates consumers and cultivate self-regulation practice.
"Animation is interesting and fun that is not only suitable for children but also for the adults. For CFM, the format is suitable to deliver the messages that are complex to explain and present in reality such as the issue on disruption of the fibre broadband. Furthermore, the bite-size content is shareable in the social media platforms such as Facebook, YouTube, WhatsApp that is suitable with the current revolving where info is received online," said CFM Chairman, Mohammad Yusrizal Dato' Yusoff.
CFM Animatch participation is open to the public last February and received 126 participations from university students and animation experts. Out of all the participants, 20 participants were chosen to the second stage and 10 finalists were chosen to the final stage.
CFM Chairman added, "CFM received overwhelming participation from animation enthusiasts. Through this competition, participants are able to understand the common issues handled by CFM, and also to be the platform for them to showcase their talent to the public and able to attract such as international animation software company namely Toon Boom that came to the storyboard pitching session of CFM Animatch."
10 finalists were chosen by the panel of judges through a review session and get to be mentored for four consecutive weeks to complete their animation videos before the final selection.
The messages of the videos cover tips for data usage, fair usage policy, mobile number portability, pop-up ads, home fibre broadband, prepaid validity, and network issues.
The professional judges involved in mentoring and evaluating the animation videos are Father of Malaysian Animation, Hassan Abd Muthalib, Mike Ismail – Animation Film Director and Ayie Ibrahim, Director of Creatvtoon Studio Animation.
The winner for CFM Animatch will receive a cash prize of RM8,500 with the trophy while second and third prize winners will receive a cash prize of RM5,000 and RM3,000 respectively. The prize-giving ceremony to all the winners will be presented by the Deputy Secretary-General (Policy) of Communications and Multimedia Ministry (KKMM), Shakib Ahmad Shakir, who graces the CFM Animatch. Seven other finalists will bring back consolidation prize of RM500.
The winning and finalists' videos will be shared on social media and CFM's YouTube channel and other TV channels as public service announcement (PSA) for public viewing as to guide the consumers when facing with communications and multimedia services issues.
#YourRightsOurPriority
#BeASmartConsumer
#TakeNote
#BeATechASavvyUser
_______________________________END_______________________________
About CFM
The Communications and Multimedia Consumer Forum of Malaysia (CFM) were established and designated by the Malaysian Communications and Multimedia Commission (MCMC) in 2001 as an industry forum under Section 189 of the Communications and Multimedia Act 1998 (CMA). It is a platform for the industry and the consumers/public to make coherent and constructive contributions to service improvements and policy developments.
CFM is tasked with, amongst others, to promote the growth of Malaysia's communications and multimedia industry and the protection of consumer interests by fostering the highest standards of business ethics and behaviour through industry self-governance. CFM also facilitates complaints redress on Communications and Multimedia services.
If there are any unresolved complaints regarding communications and multimedia services, consumers are welcomed to submit complaints through:

COMPLAINT PORTAL

(integrated system with MCMC)

MOBILE APPLICATION
Download "MY MOBILE RIGHTS" on Google Play Store and App Store
OFFICE

CFM

Malaysian Communications & Multimedia Commission (MCMC), Off Persiaran Multimedia Jalan Impact,

63000 Cyberjaya, Selangor.
For more information and useful tips, please visit portal: