Source : SHOUT Q3 2015, consumerinfo.my #connected #CFMmalaysia  #CFMshout
With an impressive resume that includes being a TV producer, news anchor, emcee and even a successful model, award winning journalist Amin Hayat Rahim is a man of many talents. Malaysia's modern day Renaissance Man took time out to talk about what keeps pushes him onward to greater heights.
Tell us a bit about yourself.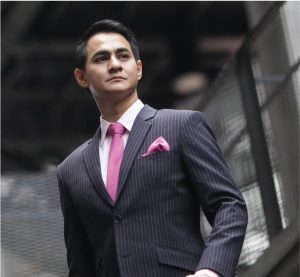 I'm the second of five children. My father was a security guard and factory worker while my mother sold kuih. I aspired to greater things and graduated from UTM in Software Engineering. After I graduated, I worked in an advertising agency and even ran an event management company for a while. My big break came when I was accepted as a journalist for TV9 in 2006. I didn't have any experience in journalism or broadcasting, and worked my way up to the chance to become a news producer after 7 years.
How did you get to where you are as a news anchor?
Before I embarked on this path I ran a business that didn't work out. It was very disheartening and I was jobless for six months. It was a very humbling period as the only ones who gave me support and encouragement were my family, especially my mother who is still my greatest supporter and motivator. She saw an ad that TV9 was looking for broadcasters and asked me to give it a try. I understand that there were over 5000 candidates who applied for the position, but fewer than a hundred were called for interviews. Of them, only three were shortlisted, including me. I didn't have any experience but was willing to work hard, took my responsibilities seriously and pursued every chance I had to gain more experience.
What makes a good news producer?
There's no shortcut to success. You have to start from the bottom and make up your way. You'll have to take to the ield, ind and report news as it happens and not just sit in a studio. It adds value and impact when you take to the ield and report an event live on location. I look up to Anderson Cooper from CNN as a role model.
What are the key elements of your success?
The keys to success are planning, preparation and passion. When you want to report on an issue or news, you need to do research beforehand so you can plan out your script and the right angles for the story. You also need to focus and stick to deadlines, as well as prepare fallback plans if your initial one doesn't work out. You also need to have passion and the willingness to roll up your sleeves and inish a job, even if you're called in to work on your of days.
Walk us through a typical day at work.
My work days are rather flexible. The earliest time I report to the office is at 7.30AM, and the latest I've clocked of was 9.00PM. When I'm on duty as a news producer, I am responsible for the entire process from production, right through to the final step of it appearing on your TV. During quiet lulls in the production process, I work out at the gym. If I'm on duty as a news anchor, I'll step in and announce the news on TV following the planned schedule. On average, I appear on TV about 15 times a month, although this depends on the situation.
What do you do to unwind after a busy week at work?
I head to the gym. My responsibilities as a news anchor and  producer requires me to be mentally sharp and physically it. My focus is not on getting an amazing physique like a body builder; my health  is of a higher priority. My dream goal is to be on the cover of Men's Health Malaysia. Haha…
What is your proudest moment so far?
Why? My proudest moment in the local scene was when I was the recipient of the Broadcast Journalist of the year 2014 award which  was conferred by Prime Minister, Datuk Seri Mohd Najib Tun Abdul Razak himself. On the international front, it was when I was selected to represent the Malaysia media twice at the United Nations Economic and Social Commission for Asia and the Paciic (UNESCAP) in Bangkok, Thailand.
The internet is a vast fountain of information. As a news anchor and opinion leader, how do you decipher fact from fiction?
The Internet is a massive resource of knowledge. As part of an IT savvy generation, you should  understand an issue thoroughly and authenticate the source it came from before using it. Unfortunately, what is happening now is that some individuals are taking information without doing any research beforehand to ascertain its accuracy and quoting it as fact. As a wise netizen, you must be ethical and responsible in how you use the Internet and information obtained from it.
News in this day and age can be reported in a matter of minutes on social media. What do you think of the role of citizen reporters and how technology allows everyone and everyone to report news as it happens?
It's a fantastic thing. Citizen reporters can report news that more conservative media find difficult to cover and can cover events immediately as they happen. Even so, citizen journalists ought to be aware of and practice ethical, factually based journalism and be aware of the 5W1H concept (Where, Why, What, When, Who, and How). An example of this is a citizen reporter covering a car crash. It's fine to cover the crash, but it's too sensitive to take pictures of the victims.
What are the key concerns you have in conveying important information to the public? What role does the media have to protect public interest and the truth?
The mass media has a critical role to play indeed. Information can go viral easily and affect public perception of an issue. As a media practitioner, it's critical to report based on verified and accurate facts. Unfortunately, social media is occasionally misused by irresponsible individuals, so you must be extremely careful. This is especially important for media practitioners when using and conveying information on social media like Twitter, WhatsApp, and Facebook, lest their posts be factually inaccurate or conveys the wrong context. Social media has an immense impact on public perception and has to be used responsibly.
AMIN'S TOP APP PICKS
As a news producer, Amin needs to be able to share and disseminate information to a huge audience and his colleagues on the ly. Here are his top four indispensable app picks for when he's on the job.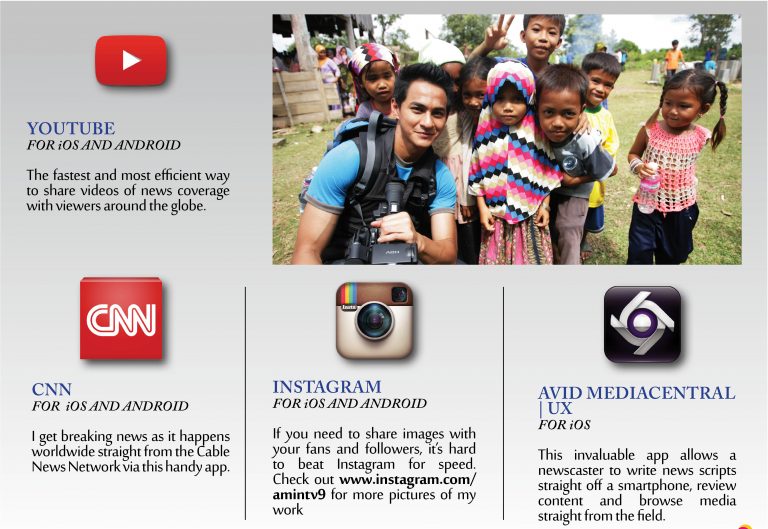 Source : SHOUT Q3 2015, consumerinfo.my #connected #CFMmalaysia  #CFMshout