CYBERJAYA, 31 JULY 2019 – The Communications and Multimedia Consumer Forum of Malaysia (CFM) 18th Annual General Meeting (AGM) announced the total number of complaints reported by consumers for the first half-year (H1 2019) from January to June this year with 4,635 complaints compared to H1 2018 with 1,770 complaints received.
 

H1 2019

(Jan-Jun)

H1 2018

(Jan- Jun)

Total complaints received by CFM in First Half (H1)
4,635
1,770
Out of the 4,635 complaints, 97% of the complaints were resolved within 15 business days as of 5 July 2019, as set out in the General Consumer Code of Practice for the Communications and Multimedia Industry Malaysia (GCC).
According to CFM records, Network issues such as Service Disruption are among the highest number of complaints reported by consumers to CFM. This is followed by other categories which include Billing and Charging, Service Delivery, Mobile Number Portability (MNP), SMS Service, Unfair Practice, Misrepresentation of Service, Pricing and Dispute Terms and Conditions.
"Network issues received by CFM from consumers recorded 1,938 complaints from the total number of complaints received in H1 2019. Among the issues on network frequently reported are service disruption and service downtime, poor coverage 4G/LTE, no coverage 4G/LTE and no coverage high-speed broadband," said CFM Chairman, Mohamad Yusrizal Dato' Yusoff who chaired CFM's 18th AGM in MCMC Auditorium, Cyberjaya today.
Apart from that, one of the most recent issues that caught CFM's attention this year was Direct Carrier Billing which is a service that provides mobile device users with the ability to make payment digitally for any purchase in Google Play Store or Apple App Store via the user's monthly mobile phone bill or prepaid credit.
Mohamad Yusrizal added, "With the development of digital technology in payment systems and increasing usage of e-Wallets today, more consumers are opting to use cashless payment methods. Further to this, CFM has received several complaints about the issue of payment by mobile phone bill. Consumers are advised to be cautious when making purchases using a mobile device. "
CFM advises consumers to follow these precautions:
Always check and monitor your phone bill details.
Do not put save payment methods in your devices such as credit card details, debit cards, phone numbers, and e-Wallets. Only add payment when needed.
Do not share your TAC or PIN numbers with any party.
Do not authorize any unknown transactions.
Do not share your personal data with others.
On another note, the CFM AGM witnessed the appointment of 13 new Council Members for the 2019-2021 term that was conducted over e-voting by CFM members who attended the annual meeting today.
Mohamad Yusrizal, who served as CFM Chairman for two years, stepped down and expressed his hope that the new CFM leadership would continue to be fully committed not only towards CFM's improvement but also towards the consumers and the industry as a whole.
At the AGM, Datin Mohana Mohariff from Telekom Malaysia Berhad (TM) has been elected as the new CFM Chairperson for 2019-2021 term and will be supported by the Deputy Chairman Mohamad Yusrizal Dato' Yusoff (CAKE), Secretary – Azlinda Zainal Abidin (ASTRO), and Treasurer – Abdul Rahman Samad (KPM).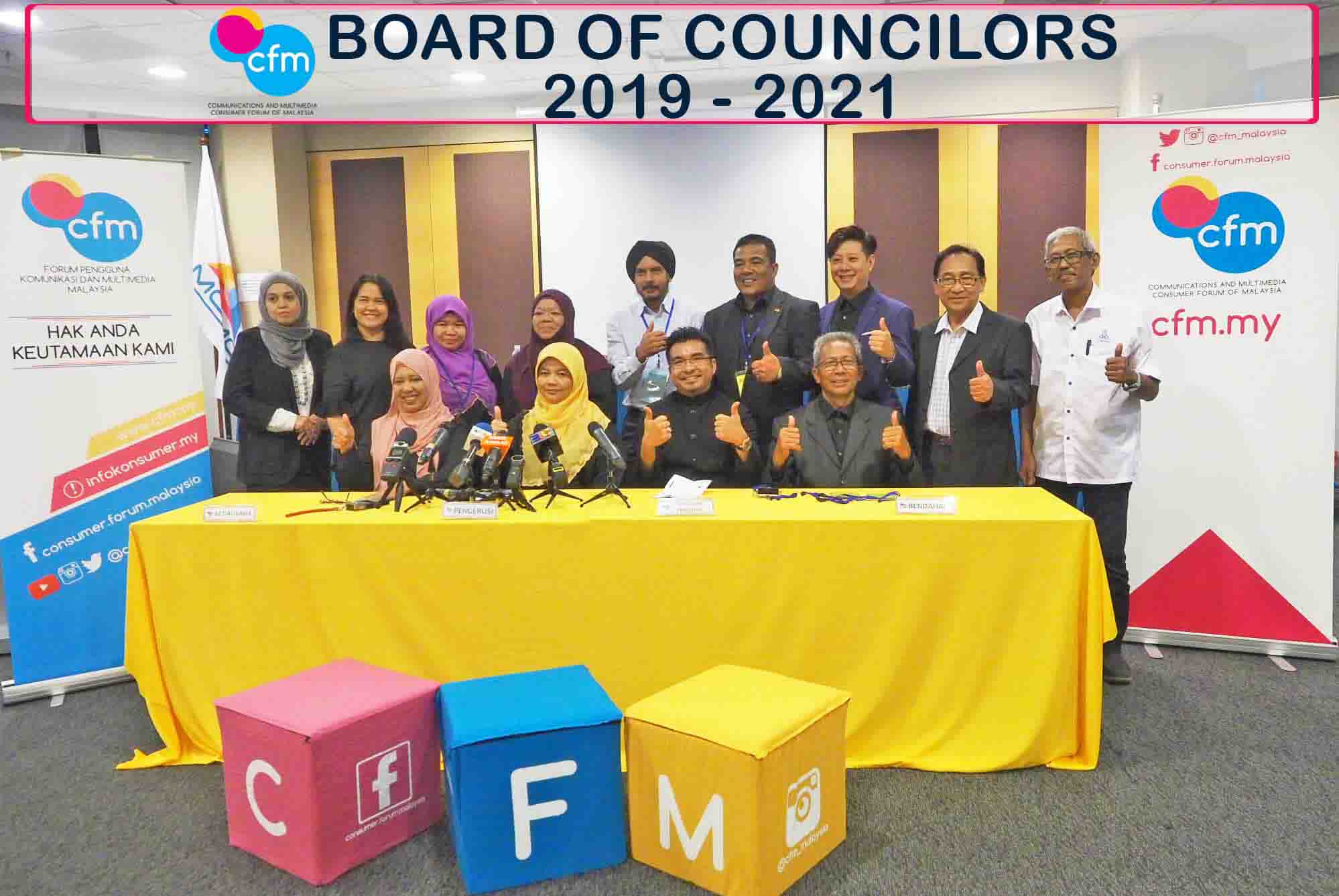 The new appointed CFM Council Members at CFM's 18th Annual General Meeting was held at the MCMC Auditorium, Cyberjaya today.
(Front row – from left: CFM Secretary – Azlinda Zainal Abidin (ASTRO), CFM Chairperson – Datin Mohana Mohariff (TM), CFM Deputy Chairperson – Mohamad Yusrizal Dato' Yusoff (CAKE), CFM Treasurer – Abdul Rahman Samad (KPM).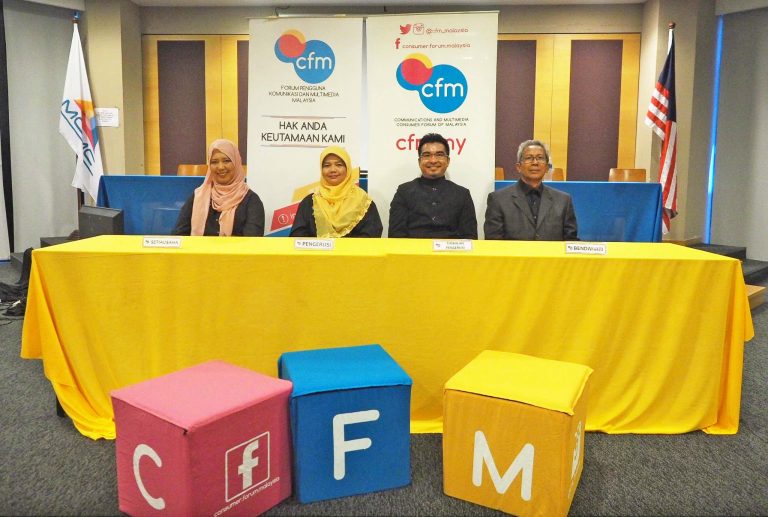 | | | |
| --- | --- | --- |
| | POSITION | NAME |
| 1- TELEKOM MALAYSIA BERHAD (TM) | CHAIRPERSON | DATIN MOHANA MOHARIFF |
| 2- PERSATUAN PENGGUNA KEDAH (CAKE) | DEPUTY CHAIRPERSON | MOHAMAD YUSRIZAL DATO' YUSOFF |
| 3- ASTRO | SECRETARY | AZLINDA ZAINAL ABIDIN |
| 4- PERTUBUHAN PEMBIMBING KEWANGAN PENGGUNA & KEUARGA MALAYSIA (KPM) | TREASURER | ABDUL RAHMAN SAMAD |
PEKOMA – PERSATUAN PENGGUNA KOMUNIKASI DAN MEDIA MALAYSIA
MACFEA – PERSATUAN EKONOMI PENGGUNA & KELUARGA MALAYSIA
PKPM – PERSATUAN KEBAJIKAN PENGGUNA MELAKA
CAM – CONSUMER'S ASSOCIATION OF MIRI
MMCP – MALAYSIAN MOBILE CONTENT PROVIDERS ASSOCIATION
CELCOM
YTL
TV3
ALTEL
 #YourRightsOurPriority
#BeASmartConsumer
#TakeNote
#BeATechASavvyUser
_______________________________END_______________________________
About CFM
The Communications and Multimedia Consumer Forum of Malaysia (CFM) were established and designated by the Malaysian Communications and Multimedia Commission (MCMC) in February 2001 as an industry forum under Section 189 of the Communications and Multimedia Act 1998 (CMA). It is a platform for the industry and the consumers/public to make coherent and constructive contributions to service improvements and policy developments.
CFM is tasked with, amongst others, to promote the growth of Malaysia's communications and multimedia industry and the protection of consumer interests by fostering the highest standards of business ethics and behaviour through industry self-governance. CFM also facilitates complaints redress on Communications and Multimedia services.
If there are any unresolved complaints regarding communications and multimedia services, consumers are welcomed to submit complaints through:

COMPLAINT PORTAL

(integrated system with MCMC)

MOBILE APPLICATION
Download "MY MOBILE RIGHTS" on Google Play Store and App Store
OFFICE

CFM

Malaysian Communications & Multimedia Commission (MCMC), Off Persiaran Multimedia Jalan Impact,

63000 Cyberjaya, Selangor.
For more information and useful tips, please visit portal: