Do you Know? What happens If you don't have time to top up?
Don't worry! We've got you covered. Every Service Providers in Malaysia has provided a certain duration of suspension "Grace Period" before you account being deactivated.
IT' S NOT TOO LATE. Here is the information on the duration of suspension for every carrier in Malaysia.
*Disclaimer: The grace period information is only for the latest prepaid product in the market.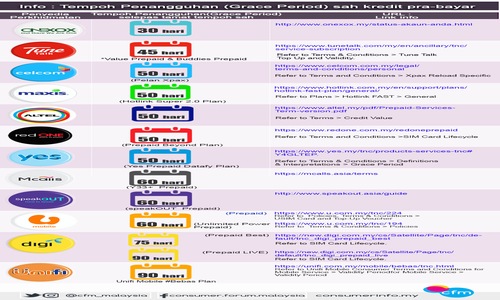 TOP UP NOW BEFORE IT IS TOO LATE!
XOX : http://www.onexox.my/status-akaun-anda.html
Tune Talk : http://www.tunetalk.com/my/en/ancillary/tnc/service-subscription
Celcom : https://www.celcom.com.my/legal/terms-and-conditions/personal
Maxis : https://www.hotlink.com.my/en/faq/products/prepaid-pantas/general/
Altel : http://www.altel.my/terms-conditions/prepaid-service-terms/
REDONE : https://www.redone.com.my/redoneprepaid
Yes : https://www.yes.my/tnc/products-services-tnc#Y4GLTEP.
Mcalls : https://mcalls.asia/terms
SpeakOUT : http://www.speakout.asia/guide
Umobile : https://www.u.com.my/tnc/224
: https://www.u.com.my/tnc/194
Digi : https://new.digi.com.my/cs/Satellite/Page/tnc/default/tnc_digi_prepaid_best
https://new.digi.com.my/cs/Satellite/Page/tnc/default/tnc_digi_prepaid_live
Unifi Mobile : https://unifi.com.my/mobile/bebas/tnc.html