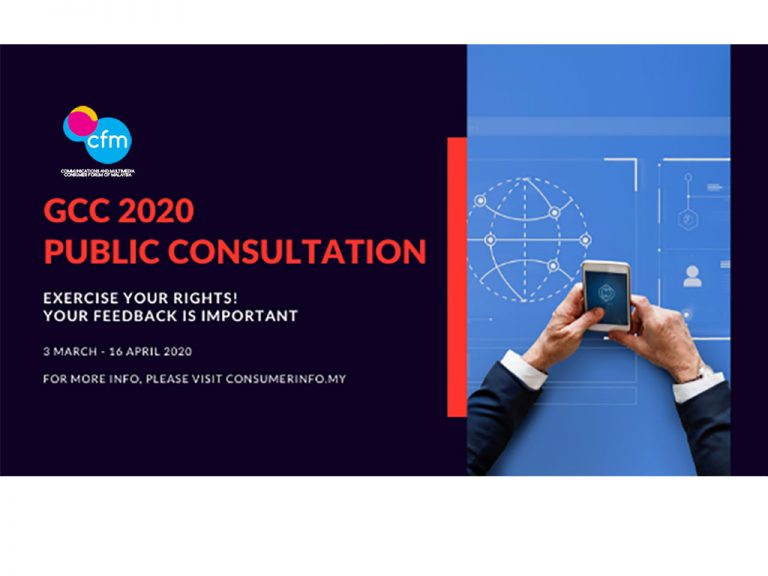 CYBERJAYA, 3 MARCH 2020 – As an industry forum established for the purpose of consumer protection in terms of service provisioning in accordance with Section 189 of the Malaysian Communications and Multimedia Act 1998, the Communications and Multimedia Consumer Forum of Malaysia (CFM) with the support of the Malaysian Communications and Multimedia Commission (MCMC) will commence a Public Consultation process as the final step in the review of General Consumer Code of Practice for the Communications and Multimedia Industry Malaysia (GCC) starting 3 March 2020 until 16 April 2020 (45 days).
In brief, the GCC is a voluntary industry code registered in 2003 by the MCMC to serve as a guideline and benchmark for service providers in the provision of communications and multimedia services to consumers. The GCC has previously undergone a review process in line with current industry developments. As such, this public consultation is implemented as the final step before registration of the latest GCC version with MCMC. This exercise is to ensure that the public (particularly consumers) are adequately engaged and consulted in the finalisation of the new version of the GCC.
The main focus for this public consultation is based on the following five (5) topics:
Specific protection for consumers with special needs

Required information regarding direct carrier billing subscriptions

Renewal of service contract terms and conditions

International roaming services

Classification of simple complaints vs. complex complaints
Members of the public are encouraged to provide feedback on this public consultation in order to ensure that GCC version 2020 takes into account the current needs and circumstances of the Malaysian communications and multimedia consumers. Further information on this exercise could be accessed at https://www.consumerinfo.my.
CFM will continue to strive to be a proactive forum through constant engagement with consumers via multipronged approaches – dialogues, forums, workshops, polls, and any other hands-on programmes.
#YourRightsOurPriority
#BeASmartConsumer
#TakeNote
#BeATechASavvyUser
_______________________________END______________________________
About CFM
The Communications and Multimedia Consumer Forum of Malaysia (CFM) were established and designated by the Malaysian Communications and Multimedia Commission (MCMC) in February 2001 as an industry forum under Section 189 of the Communications and Multimedia Act 1998 (CMA). It is a platform for the industry and the consumers/public to make coherent and constructive contributions to service improvements and policy developments.
CFM is tasked with, amongst others, to promote the growth of Malaysia's communications and multimedia industry and the protection of consumer interests by fostering the highest standards of business ethics and behaviour through industry self-governance. CFM also facilitates complaints redress on communications and multimedia services.
If there are any unresolved complaints regarding communications and multimedia services, consumers are welcomed to submit complaints through:

COMPLAINT PORTAL

(integrated system with MCMC)

MOBILE APPLICATION
Download "MY MOBILE RIGHTS" on Google Play Store and App Store
OFFICE

CFM

Malaysian Communications & Multimedia Commission (MCMC), Off Persiaran Multimedia Jalan Impact,

63000 Cyberjaya, Selangor.
For more information and useful tips, please visit portal: