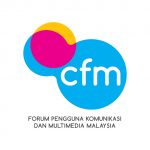 KOTA KINABALU, 17 MARCH 2018 – Committed towards empowering consumers, the Communications and Multimedia Consumer Forum of Malaysia (CFM) presents "CFM Gags and Coffee: Smart Consumer Sketch" in Padang Merdeka today to share information on telecommunications issues faced by consumers in Sabah.
The program held in Sabah is a platform for consumers to understand CFM's roles and responsibilities besides enhancing consumer awareness. CFM also takes this opportunity to share useful information on the telecommunications services needed for consumers to better adapt to technological changes and media challenges in the industry.
"Gags and Coffee is a new approach for CFM in delivering information to consumers. The knowledge sharing is presented in a more relaxed way by being easier for consumers to understand because the topics discussed comprises of the highest complaints received by CFM from consumers in Sabah. According to CFM records, 128 complaints had been reported in 2016 compared to 2017 with 59 complaints and as of February this year 15 complaints have been reported," said CFM Chairman, Mohamad Yusrizal Dato' Yusoff.
Mohamad Yusrizal added the top 3 complaints received by CFM comprises of Network, Service Delivery and Billing and Charging. Therefore, as a communications and multimedia user, we need to be more proactive and know our rights as a consumer. CFM also advises consumers to lodge official complaints to their respective service providers if they are dissatisfied with the subscribed services because it can make a more meaningful impact to change the industry rather than making complaints on social media.
For this edition of our Industry Knowledge Sharing Session (KSS), CFM uses a completely different approach to deliver its messages through comedy and humor delivered by Mad Sabah and AG Hafiz to share the problems faced by consumers in Sabah.
Tasked with the role of empowering the consumers, CFM is committed towards the protection of consumers' rights in the communications and multimedia industry. In an era where any unverified information can be obtained easily, CFM is the platform of choice for consumers to get the right information and tips pertaining to communications and multimedia services. Redress unresolved complaints by your service providers to CFM by calling our hotline number 1-800-18-2222 or email us at aduan@cfm.org.my.
#YourRightsOurPriority
#BeASmartConsumer
#TakeNote
_______________________________END_______________________________
About CFM
The Communications and Multimedia Forum of Malaysia (CFM) was established and designated by the Malaysian Communications and Multimedia Commission (MCMC) in 2001 as an industry forum under Section 189 of the Communications and Multimedia Act 1998 (CMA). It is a platform for the industry and the consumers/public to make coherent and constructive contributions to service improvements and policy developments.
CFM is tasked with, amongst others, to promote the growth of Malaysia's communications and multimedia industry and the protection of consumer interests by fostering the highest standards of business ethics and behaviour through industry self-governance. CFM is also a channel for complaints redress on Communications and Multimedia services.
If there are any unresolved complaints regarding communications and multimedia services, consumers are welcomed to submit complaints through:

CFM PORTAL

CFM COMPLAINT PORTAL

aduan.skmm.gov.my

(integrated complaint portal with MCMC)

HOTLINE
1-800-18-2222
EMAIL
aduan@cfm.org.my  
MOBILE APPLICATION

Download "MY MOBILE RIGHTS" on

Google Play Store and App Store

OFFICE

CFM

Malaysian Communications & Multimedia Commission (MCMC),

Off Persiaran Multimedia Jalan Impact,

63000 Cyberjaya, Selangor.



Media Contacts:



Noor Shahdiella Abd Manan , shahdiella@cfm.my 019 – 324 6036

Roharrashidah Abdul Halil , roharrashidah@cfm.my  017 – 896 1588

Nur Shazwani Zainudin , shazwani@cfm.my   017 – 401 2010