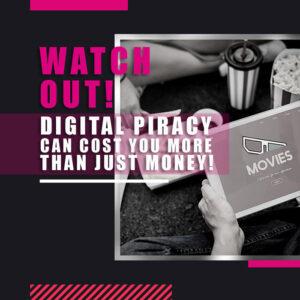 While it has been said that the best things in life are free, the saying doesn't apply when it comes to digital piracy. Ignorance isn't an excuse nor is the fact that using an illegal streaming service subscription, file sharing site or pirate set-top box because it was cheaper than a legitimate option that will save you from the long arm of the law.
Even worse if you share a link to a pirated movie or drama to your friends on social media. All this can land you in hot water with the authorities as these acts of digital piracy are not only illegal but morally wrong to boot. But what exactly is digital piracy? Check out this table that sums up the facts…
WHAT IS DIGITAL PIRACY?

• Digital piracy is when you copy or share content such as a movie, 
e-book, game or other content without the permission of the original 
copyright owner
• Using an illegal digital set-top box to watch content also constitutes 
digital piracy as the original content creators do not get a licensing 
fee with content seen on pirate set-top boxes
• Using pirated software without a license in your home or office
• Using a file sharing service to distribute, share or download digital 
content and to stream a movie also contributes to digital piracy
WHY IS DIGITAL PIRACY BAD?

• Digital piracy denies the original copyright owners an honest share of 
income which in turn discourages them from creating more content
• Pirated digital content like software, games, and movies often have 
malware and viruses attached to them when you download it
• You have no legal recourse if you are using illegal software or content. 
If something goes wrong or if your pirate set-top provider goes 
missing, you are not entitled to refunds, tech support or are unable to 
make any formal complaint
• You run the risk of identity theft as sharing files on peer-to-peer sites 
or downloading illegal content may expose your personal details to 
hackers
WHAT LAWS DO YOU BREAK?

The act of digital piracy means breaking multiple laws in Malaysia and possibly abroad. In Malaysia, you can be held liable for legal action under :
• Section 41 of the Copyright Act 1987
• Section 232 (b) of the Communications and Multimedia Act 1998
• Section 239 of the Communications & Multimedia Act 1998
HOW DO I RECOGNISE DIGITALLY PIRATED CONTENT?

• Pirated digital content like bootleg movies often have poor resolution and bad audio quality so you can't enjoy it the way it was meant to be. If it is currently running in theatres and available elsewhere it is more than likely pirated
• If something comes at an absurdly low price or is on a weird website with lots of pop-up ads and asks you to download additional strange software onto your PC or phone, it is likely pirated content
• If the seller has a poor reputation and negative feedback and asks you to negotiate for pricing separately from a merchant platform they are on, they could likely be offering pirated content
• The product packaging lacks official security holograms and is poorly designed and flimsy. Worse, it may even lack packaging at all. If so it is likely pirated content
Ultimately, the right (and safe) thing to do is also the easiest by subscribing and getting your content from legitimate channels. If you encounter instances of digital piracy, do the right thing and help report it to the authorities by looking for a Copyright Infringement, DMCA form or Abuse form on the relevant sharing or streaming platform and filling it in.
For cases of copyright infringement, you can send an official letter to the Ministry of Domestic Trade & Consumer Affairs (KPDNHEP/MDTCA) or via KPDNHEP's E-Aduan site https://eaduan.kpdnhep.gov.my/.
Remember, don't be a digital pirate!
Source : SHOUT H2, 2018