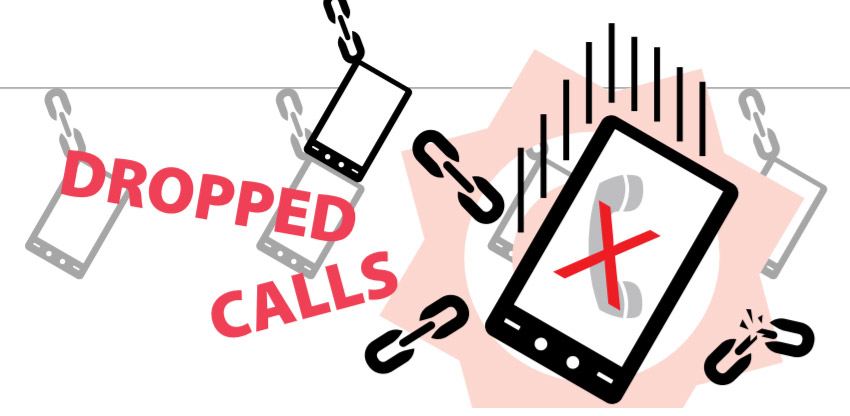 WHY DROPPED CALLS HAPPEN?
DROPPED CALLS are frustrating no matter when and why they happen.
The inability to complete a call, the sudden cut-off when talking to someone or when a call in progress simply goes silent happen to all instances of dropped calls. The industry categorises dropped calls as calls that were cut off before the speaking parties had finished their conversation and before one of them had hung up.
It is worth pointing out that every single day, the average user makes or receives 8 calls, which means that more than 150 million calls are made daily in Malaysia. Statistically then, the number of dropped calls are very low. However, even one dropped call is one too many as users rightfully expect every call they make or receive to be completed without any problems.
Why Dropped Calls Happen
Dropped calls can happen for many reasons and investigations show that there are three main reasons why dropped calls are happening.
The top reason has to do with network issues. As mentioned, a complex mobile network spans the country, with backend equipment handling hundreds of millions of calls every few days. When a network goes down somewhere along the chain, customers are hit by dropping calls. If a single base station is down, only that area will be affected. But occasionally, a wider part of the network could be down, affecting many users.
The second major reason has to do with network upgrades. When your mobile operator upgrades its network, some inconvenience is to be expected.
The final reason identified has to do with base stations that have been decommissioned. Mobile operators are constantly realigning their services and sometimes they close a base station because another one has been commissioned nearby. Unfortunately, some users may end up getting fringe coverage.
Mobile operators have not been ignoring the issue. All reports are taken seriously and mobile operators are working to minimise dropped calls incidents. This is achieved by improving the capacity and coverage of the network. If dropped calls problems persist, do report them as that will enable the operators to identify where the problems are and take remedial actions. 
A CASE OF CONSUMER EXPERIENCE 
Q: I always experienced dropped calls at my home. Sometimes, I feel very frustrated because I could not finish important calls with my clients because the signal is so bad. This happens not only to me; my other family members also face the same problem. They tell me that the connection is always disconnected halfway during a phone call. This issue has been ongoing for more than one month. I don't know why it happens and I don't know what I should do. Could you please tell me what is happening and advise me what to do?
A: We acknowledge your problem and understand the frustration you feel when experiencing dropped calls. The first step to solve the issue will be by lodging a complaint with your service provider for further investigation and clarification. You may need to provide information when lodging the complaint such as:
The exact location (it will be better if you could provide full address with post code).

Please specify date, time and duration of the call made/ received.

Your handset model.

Numbers or signal bars on the handset.

Whether the dropped calls happen every time or only at certain times.

Any two examples of mobile numbers which are facing the issue. After lodging a complaint with your service provider, you should expect a response or solution from the service provider. However, if the complaint is still unresolved and you still experience dropped calls, you may redress unresolved complaints to CFM by lodging a complaint.
Source : SHOUT Q1 2013 , consumerinfo.my #CFMShout #CFMmalaysia #YourRightsOurPriority